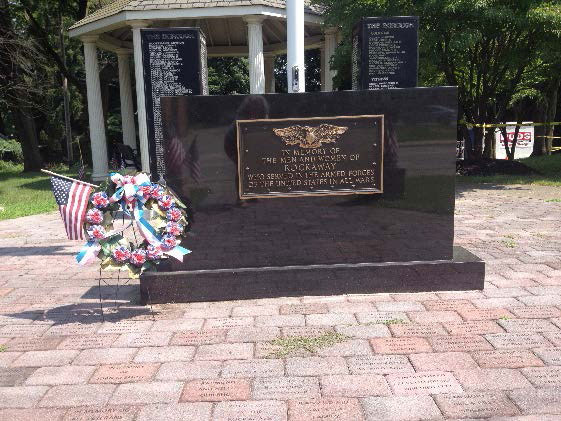 Rockaway Borough Veterans Memorial Walkway
The Borough of Rockaway Historical Committee is selling engraved memorial bricks, which will be placed in the walkway at the Veteran's Memorial adjacent to the Rockaway Borough Public Library.
Engraving has a maximum of three lines each, with a maximum of 13 characters, including spaces, per line. Messages containing dashes (-) must be preceded by a space and followed by a space. Letters are uppercase. Engraving is centered on the brick.
Engraving Suggestions:
Veteran Memorial
john a. doe
1942 - 1943
World War II
Bricks measure 6" x 9". Cost is $60 each.
You can download the form and fill out by hand or complete the form online, print, and mail it with your check to:
Engraved Bricks
47 Woodside Avenue
Rockaway Borough, NJ 07866
Make check payable to "Borough of Rockaway Historical Committee".
Bricks may also be purchased from any Historical Committee member.
Call Jim Allen at 973-627-9270 or email rockborohistorical@gmail.com for further information.
Download the Memorial Brick Order Form
Note: The interactive form works best using a desktop computer. If using a mobile device, you may have to open the order form in Acrobat Reader (free from Adobe) or another PDF reader program. After completing the interactive form, print the form. Alternatively, you may print the form and fill out by hand.